http://www.ep.tc .. .. problems home .. .. other things on www.ep.tc .. .. RSS
COMICS WITH PROBLEMS #27 - TWO FACES OF COMMUNISM (1961)
Front cover ..01 .. 02 .. 03 .. 04 .. 05 .. 06 .. 07 .. 08 .. 09 .. 10 .. 11 .. 12 .. 13 .. 14 .. 15 .. 16 .. 17 .. 18 .. 19 .. 20 .. 21 .. 22 .. 23 .. 24 .. 25 .. 26 .. 27 .. 28 .. 29 .. 30 .. 31 .. Back cover .. .. your letters
---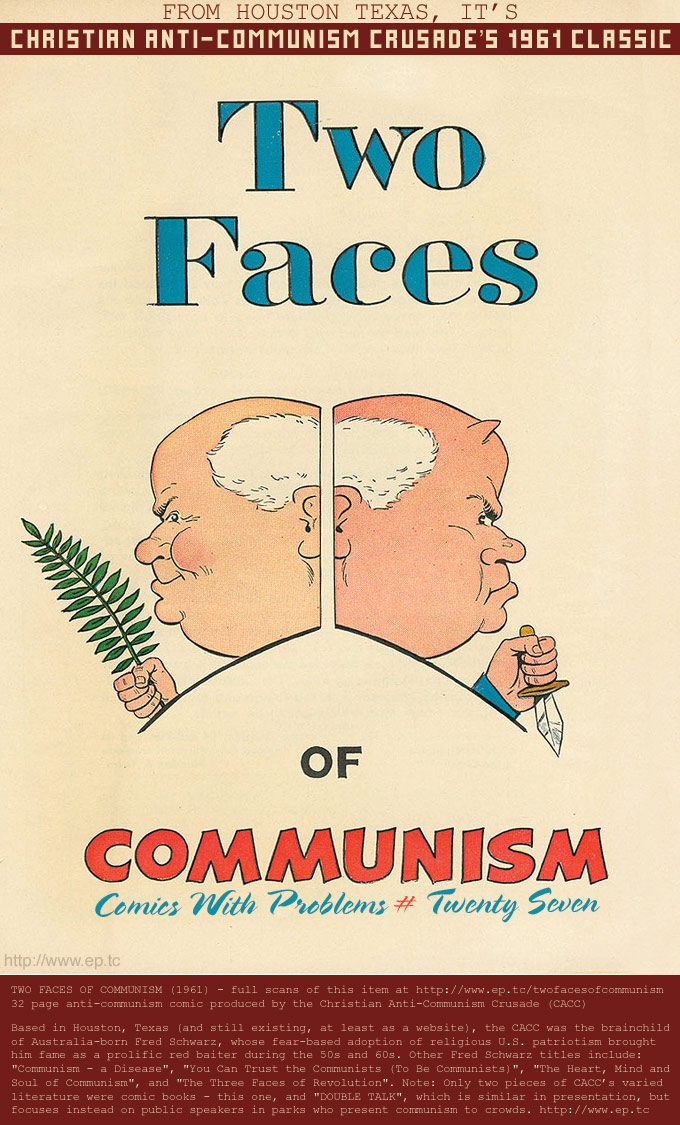 Click the panel for the next page
---
TWO FACES OF COMMUNISM (1961) - 32 page anti-communism comic produced by the Christian Anti-Communism Crusade (CACC)
Based in Houston, Texas (and still existing, at least as a website), the CACC was the brainchild of Australia-born Fred Schwarz, whose fear-based adoption of religious U.S. patriotism brought him fame as a prolific red baiter during the 50s and 60s. Other Fred Schwarz pamphlets include: "Communism - a Disease", "You Can Trust the Communists to Be Communists", "The Heart, Mind and Soul of Communism", and "The Three Faces of Revolution". Note: Only two of the CACC pamphlets were comic books (both a touch hard to find we might add) - there's this one (TWO FACES), and DOUBLE TALK, which is similar in presentation, but focuses instead on public speakers in parks who present communism to crowds.
Additional Notes:
Born in 1913, Schwarz is still around (as of 2008), currently residing in Brisbane Australia. He published his autobiography "Beating the Unbeatable Foe: One Man's Victory Against Communism, Leviathan and the Last Enemy" in 1996.
Other Schwarz titles: The Communist Interpretation of Peace, The Christian Answer to Communism, Can You Trust the Communists?, Communism (Diagnosis and Treatment), Insurance Against Communism, and our favorite: Will the Kremlin Conquer America by 1973?
See this five page Time Article on Schwartz from Feb, 1962: http://www.time.com/time/magazine/article/0,9171,938304-1,00.html
Fred Schwarz should not be mistaken with Frederick Schwarz, the FAO Schwarz toy mogul.
---
---